Astor Secondary School
Back
ADAPTABLE – CREATIVE – PROUD – RESPECT - RESILIENCE
The Astor Secondary School vision is to motivate all students to achieve their best in a safe, caring and stimulating environment. We offer a range of opportunities that stretch, challenge and develop resilience for every student.
Astor School is an 11-19 Secondary Academy which is part of the Dover Federation for the Arts Multi Academy Trust. To support our vision and core values we pride ourselves in the broad and balanced curriculum we offer. This enables our students to develop, not only the core academic knowledge and understanding but also important life skills for their future.
Entry for pupils to Astor School at the beginning of Year 7 is guided thoughtfully and imaginatively. We recognise that this is a huge transition for children and families and do our best to manage as smooth a process as possible from Primary to Secondary education.
The Sixth Form at Astor School is very strong, offering a wide range of A level courses. Specialist staff look to the future for their students who, in the majority, achieve the places of their choice on courses in Higher and Further education.
Our newly-established careers programme (#Aspire) has supported students over the past two years into apprenticeships in a number of sectors, as well as applications to the country's top universities and the world of work.
We work closely with external partners to ensure that we give the best opportunity and chances to our students and this, in turn, enables us to access new and exciting projects and programmes that further enrich the learning experience we offer.
The Astor School motto of 'Adaptable, Creative and Proud' underpins all that we undertake, and this focus, supported by the passionate and committed staff has seen our academic achievements improve year on year.

Pupils are very respectful of the viewpoints of others. The school's 'Learning for Life' programme has been well thought out. It promotes tolerance and gives pupils insight into life in modern Britain. The school's student ambassadors are impressive role models and are highly regarded by younger pupils. Careers education is thorough and imaginative.
Ofsted
Lee Kane, Headteacher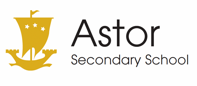 Astor Secondary School
Headteacher Mr L Kane
Address Astor Avenue, Dover, Kent CT17 0AS